"Cathedral of Brasilia" by Brazilian architect Oscar Niemeyer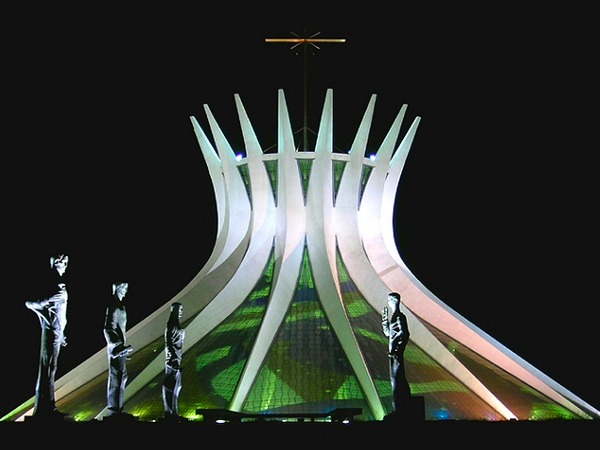 Born in Rio de Janeiro, Oscar Ribeiro de Almeida Niemeyer Soares Filho (1907 – 2012) was a Brazilian architect considered to be one of the key figures in the development of modern architecture. He died on December 5, 2012, ten days before his 105th birthday.
Niemeyer is most famous for the design of the Cathedral of Brasilia, one of the numerous buildings he designed for the layout of the new capital in the 1960s. The cathedral is a huge structure constructed of 16 concrete columns, weighing 90 tons each. In the square access to the temple are four 3-meter tall bronze sculptures, representing the evangelists. The sculptures were made with the aid of the sculptor Dante Croce in 1968. Inside the nave are the sculptures of three angels, suspended by steel cables.
The structure induces reverence from its entrance. First, an open-air aisle sided by statues of the evangelists, with the synoptics on one side and John on the other. Then, a dark, silent tunnel leading to the main, naturally-illuminated nave dominated by three hanging angels in different sizes, which gives a perspective illusion of heavenly profundity. Despite its awing scale and structure, the cathedral has seen relatively little use.