"Masks" by German expressionist painter Emil Nolde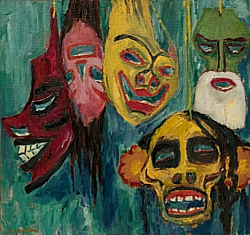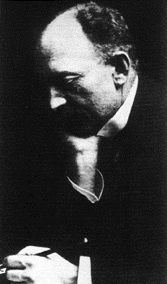 Emil Nolde (1867-1956) was born as Emil Hansen near the village of Nolde in the Prussian Duchy of Schleswig. Between 1884 and 1891, he studied to become a carver and illustrator in Flensburg. He spent his years of travel in Munich, Karlsruhe and Berlin.
Emil Nolde was was one of the first German expressionist painters and printmakers. He was a member of Die Brücke (The Bridge), a group of German expressionist artists formed in Dresden in 1905, after which the Brücke Museum in Berlin was named.
Expressionism is a modernist movement, in poetry and painting, originating in Germany at the beginning of the 20th century. Expressionist artists sought to express meaning or emotional experience rather than physical reality.
Nolde is known for his vigorous brushwork and expressive choice of colors. In his works, Nolde articulated his growing dissatisfaction with contemporary Western society, which he countered with his own idealized concept of the "noble savage".
As expressed in his work "Masks" Nolde explored typical Expressionist themes of urban nightlife, but had a more abiding devotion to "primitive" and phantasmagorical subjects. The work currently hangs at The Nelson Atkins Museum of Art in Kansas City, Missouri.