"Hill" by Brazilian artist Candido Portinari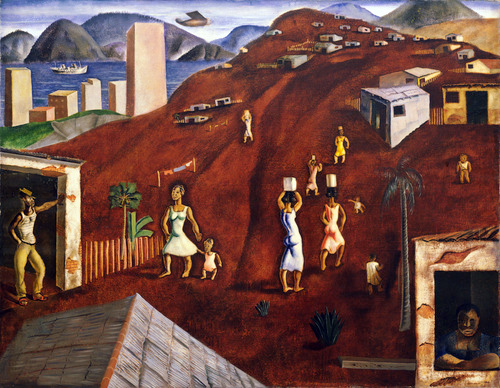 Candido Portinari (1903-1962) was one of the most important Brazilian painters and also a prominent and influential practitioner of the neo-realism style in painting. Portinari studied at the Escola Nacional de Belas Artes (ENBA) in Rio de Janeiro. In 1928, he won a gold medal at the ENBA and a trip to Paris where he stayed until 1930, when he returned to Brazil.
The range and sweep of his output is quite remarkable. It includes images of childhood, paintings depicting rural and urban labour, refugees fleeing the hardships of Brazil's rural northeast, treatments of the key events in the history of Brazil. In the painting he combines realism, expressionism and a surrealist lyricism born of nostalgia for his childhood in the countryside, never losing sight of the Brazilian land and people.
Portinari devoted himself to the realistic portrayal of the life of the common people— Indians, Negroes, farmhands, and the inhabitants of
favelas
(slums). He often endowed his figures with a lofty and heroic character. Representative of the portrayals is "Hill" painted in 1933 and currently on display at the Museum of Modern Art in New York.