"Gems" by American 3D Contemporary Artist Charles Hinman with Gary Lichtenstein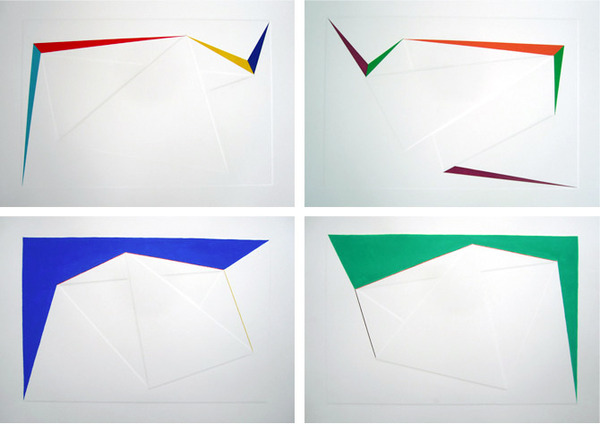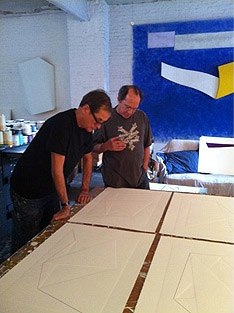 Charles Hinman (b. 1932) was born and raised in Syracuse, New York, where he attended art classes at the Syracuse Museum of Fine Arts. In 1954, while pursuing his BFA at Syracuse University, Hinman was a professional baseball pitcher with the Milwaukee Braves minor leagues.
Hinman received his BFA in 1955 and went on to study at the Art Students League of New York. Hinman taught mechanical drawing at the Staten Island Academy and was the shop instructor at the Woodmere Academy on Long Island. In these two positions, Hinman developed carpentry and engineering skills that gave him the ability to construct his own shaped canvases with complex three-dimensional curves.
Seeking an independent path in 1963, Hinman created his first shaped canvases in his studio on 95th Street. He was introduced to the New York art scene in 1964 in a show at the Sidney Janis Gallery titled "Seven New Artists". Since the 1960s his shaped canvases have garnered critical acclaim. Hinman's array of sculpted canvases energize the space on surrounding walls. Various facets of his new white-primed rhomboids and diamonds are painted behind, or in front, in bright, saturated hues creating a fascinating play between literal and illusionistic depth.
"Gems" is Hinman's creation with Gary Lichtenstein, where screen colors are reflected off the wall, thus allowing for the wall and the interstices to be reconsidered as foreground and ground. As we move, we perceive the work differently: new colors, new facets, new forms, new shadows, as the work is constantly reinvented. Gems was first presented to the public at the Butler Institute of American Art, in Youngstown, Ohio, in the Fall of 2011.