"Red Hot + Dance" by New York Graffitti Artist Keith Haring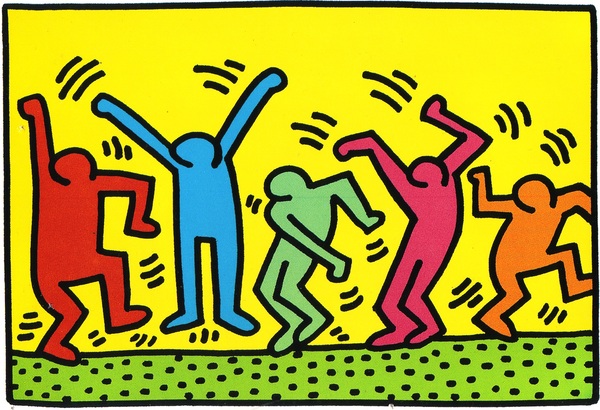 Keith Haring (1958-1990) was born in Reading, Pennsylvania, and raised in nearby Kutztown. He developed a love for drawing at a very early age, learning basic cartooning skills from his father and from the popular culture around him, such as Dr. Seuss and Walt Disney.
In 1976, Haring moved to New York City and enrolled in the School of Visual Arts. In New York, Haring found a thriving alternative art community that was developing outside the gallery and museum system, in the downtown streets, the subways and spaces in clubs and former dance halls.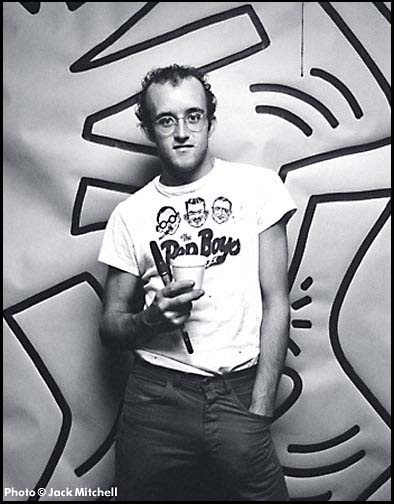 In 1980, Haring found a highly effective medium that allowed him to communicate with the wider audience he desired, when he noticed the unused advertising panels covered with matte black paper in a subway station. He began to create drawings in white chalk upon these blank paper panels throughout the subway system. Between 1980 and 1985, Haring produced hundreds of these public drawings in rapid rhythmic lines, sometimes creating as many as forty "subway drawings" in one day. This seamless flow of images became familiar to New York commuters, who often would stop to engage the artist when they encountered him at work. The subway became, as Haring said, a "laboratory" for working out his ideas and experimenting with his simple lines. In the popular media, Haring developed watch designs for Swatch and an advertising campaign for Absolut vodka.
Throughout his career, Haring devoted much of his time to public works, which often carried social messages. He produced more than 50 public artworks between 1982 and 1989, in dozens of cities around the world, many of which were created for charities, hospitals, children's day care centers and orphanages. The now famous
Crack is Wack
mural of 1986 has become a landmark along New York's FDR Drive.
Haring was diagnosed with AIDS in 1988. Haring enlisted his imagery during the last years of his life to speak about his own illness and generate activism and awareness about AIDS. Haring died of AIDS related complications at the age of 31 on February 16, 1990. Since his death, Haring has been the subject of several international retrospectives. Source: www.haring.com