"Three Girls" by Indian painter Amrita Sher-Gill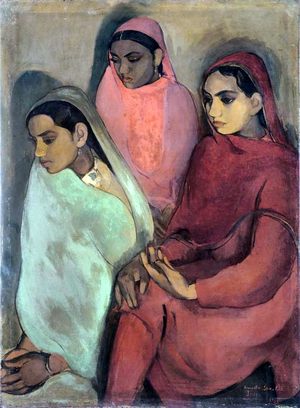 Amrita Sher-Gill (1913-1941) was born in Budapest in 1913 to a Hungarian mother and a Sikh father. Her early childhood was spent mostly in Hungary, and in 1921 the family moved to India, where she began her schooling.
Amrita's early work often reflected the academic style in which she was trained. However, she also began to experiment with ways of representing the non-Western human images. Today, she is considered an important woman painter of 20th century India, whose legacy stands at par with that of the Masters of Bengal Renaissance. She is also the 'most expensive' woman painter of India. Her paintings in the public domain are found in the National Gallery of Modern Art in New Delhi, India.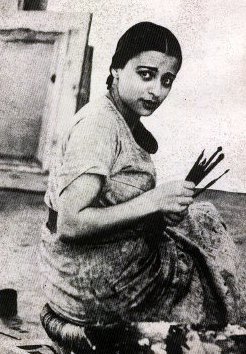 With
Three Girls
(1935), Amrita began to move away from the academic, realistic style of painting in which she was schooled, and towards a flatter, more modern composition. The painting depicts three young women on the threshold of adulthood and marriage, their hapless expressions indicating the artist's empathy for their predicament.