George Washington portrait by American artist Gilbert Stuart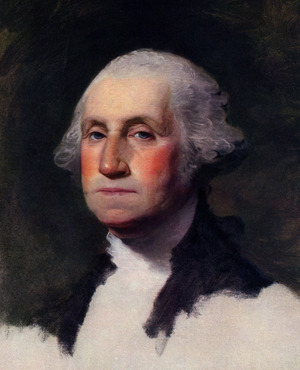 Gilbert Stuart (1755-1828) was declared the "Father of American Portraiture" because he portrayed most of the notable men and women of the Federal period in the United States. Born in Rhode Island, the artist trained and worked in London, England, and Dublin, Ireland, from 1775 to 1793. He then returned to America with the specific intention of painting President Washington's portrait.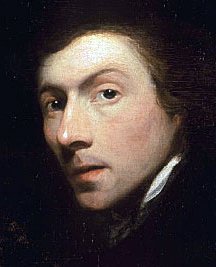 Stuart resided in New York (1793-1795); Philadelphia (1795-1803), where he did his first portrait of George Washington; and the new capital at Washington, D.C. (1803-1805). In 1805 he settled in Boston and painted the Gibbs-Coolidge set, the only surviving depiction of all five first presidents. Before his death at 72, Stuart also taught many followers. A charming conversationalist, Stuart entertained his sitters during long hours of posing to sustain the fresh spontaneity of their expressions. To emphasize facial characterization, he eliminated unnecessary accessories and preferred dark, neutral backgrounds and simple, bust- or half-length formats.
Stuart often was irritatingly slow in completing commissions, in spite of his swift, bravura brushwork. Though he inevitably commanded high prices, Stuart lived on the verge of bankruptcy throughout his career because of his extravagant lifestyle and inept business dealings. In London, for instance, he had owned a carriage, an unheard-of presumption for a commoner. And Stuart's years in Ireland, both coming and going, had been ploys to escape debtors' prison.
Stuart's best known work, the unfinished portrait of George Washington, was begun in 1796 and left incomplete at the time of Stuart's death in 1828. The image of George Washington featured in the painting appears on the U.S. one-dollar bill. His work can be found today the Metropolitan Museum of Art in New York City, the National Gallery of Art in Washington, D.C., the National Portrait Gallery in London, and the Museum of Fine Arts in Boston.
Source: National Gallery of Art, hoocher.com