Graffiti Art by English Freehand Artist Banksy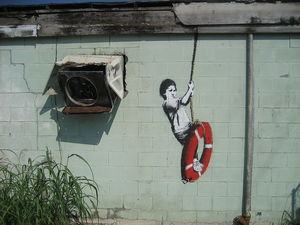 Banksy is a pseudonymous England based graffiti artist, political activist, film director and painter. His satirical street art and subversive epigrams combine irreverent dark humor with graffiti done in a distinctive stencilling technique. Such artistic works of political and social commentary have been featured on streets, walls, and bridges of cities throughout the world.
Banksy began as a freehand graffiti artist in 1992–1994 as one of Bristol's DryBreadZ Crew (DBZ), with Kato and Tes. He was inspired by local artists and his work was part of the larger Bristol underground scene. From the start he used stencils as elements of his freehand pieces, too. By 2000 he had turned to the art of stencilling after realizing how much less time it took to complete a piece. He claims he changed to stencilling whilst he was hiding from the police under a rubbish lorry, when he noticed the stencilled serial number and by employing this technique, he soon became more widely noticed for his art around Bristol and London.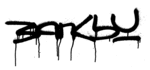 Banksy's stencils feature striking and humorous images occasionally combined with slogans. The message is usually anti-war, anti-capitalist or anti-establishment. Subjects often include rats, apes, policemen, soldiers, children, and the elderly. By the end of 2001 Banksy published his first book "Banksy, Pictures of Walls".
After Christina Aguilera bought an original of Queen Victoria as a lesbian and two prints for £25,000, on 19 October 2006 a set of Kate Moss paintings sold in Sotheby's London for £50,400, setting an auction record for Banksy's work. The six silk-screen prints, featuring the model painted in the style of Andy Warhol's Marilyn Monroe pictures, sold for five times their estimated value. His stencil of a green Mona Lisa with real paint dripping from her eyes sold for £57,600 at the same auction. In December, journalist Max Foster coined the phrase, "the Banksy effect," to illustrate how interest in other street artists was growing on the back of Banksy's success.
In late August 2008, marking the third anniversary of Hurricane Katrina and the associated levee failure disaster, Banksy produced a series of works in New Orleans, Louisiana, mostly on buildings derelict since the disaster. A stencil painting attributed to Banksy appeared at a vacant petrol station in the Ensley neighbourhood of Birmingham, Alabama on 29 August as Hurricane Gustav approached the New Orleans area. The painting depicting a hooded member of the Ku Klux Klan hanging from a noose was quickly covered with black spray paint and later removed altogether. His first official exhibition in New York, the "Village Pet Store And Charcoal Grill," opened 5 October 2008. The animatronic pets in the store window include a mother hen watching over her baby Chicken McNuggets as they peck at a barbecue sauce packet, and a rabbit putting makeup on in a mirror.