"The Haywain" by English Romantic Painter John Constable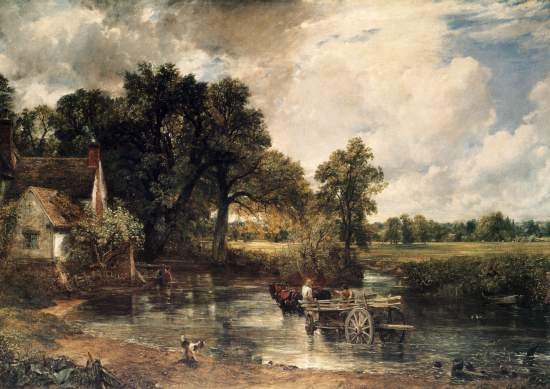 John Constable (1776-1837) was born in East Bergholt, a village on the River Stour in Suffolk, England. In his youth, Constable embarked on amateur sketching trips in the surrounding Suffolk countryside that was to become the subject of a large proportion of his art. In 1799, Constable persuaded his father to let him pursue art, and even granted him a small allowance. Entering the Royal Academy Schools as a probationer, he attended life classes and anatomical dissections as well as studying and copying Old Masters. Among works that particularly inspired him during this period were paintings by Thomas Gainsborough, Claude Lorrain, Peter Paul Rubens, Annibale Carracci and Jacob van Ruisdael.

His early style has many of the qualities associated with his mature work, including a freshness of light, color and touch, and reveals the compositional influence of the Old Masters he had studied, notably of Claude Lorrain. Constable's usual subjects, scenes of ordinary daily life, were unfashionable in an age that looked for more romantic visions of wild landscapes and ruins.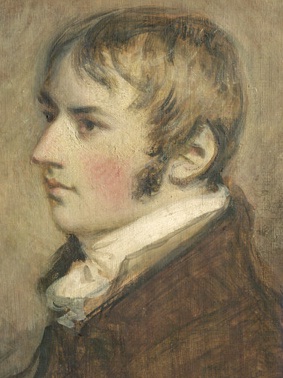 In 1816, after much opposition from her father, Constable married Maria Bicknell. Mary suffered from tuberculosis, so they lived in Hampstead in north London, which was thought to be healthier than central London. In the early 1820s they began frequent visits to Brighton, also for Maria's health. Constable believed that his paintings should come as directly as possible from nature. He made hundreds of outdoor oil sketches, capturing the changing skies and effects of light. He was happiest painting locations he knew well, particularly in his native Suffolk. He also frequently painted in Salisbury, Brighton and Hampstead, making numerous studies of the clouds over the Heath.

Maria's death in 1828 was devastating for Constable and left him responsible for their seven children. The following year he was belatedly elected to full membership of the Royal Academy. Constable received little other recognition in Britain in his lifetime, but was much better known in France. In 1824, 'The Hay Wain' won a gold medal at the Salon in Paris and Constable had a profound influence on French Romantic artists.

'The Hay Wain' is based on a site in Suffolk, near Flatford on the River Stour. The hay wain, a type of horse-drawn cart, stands in the water in the foreground. Across the meadow in the distance on the right, is a group of haymakers at work. The cottage shown on the left was rented by a farmer called Willy Lott and stands behind Flatford Mill. Today, the cottage and river path are still much as they were in Constable's time. Although the painting evokes a Suffolk scene, it was created in the artist's studio in London. Constable first made a number of open-air sketches of parts of the scene. He then made a full-size preparatory sketch in oil to establish the composition.