"Prakriti" by Indian Contemporary Artist S.H. Raza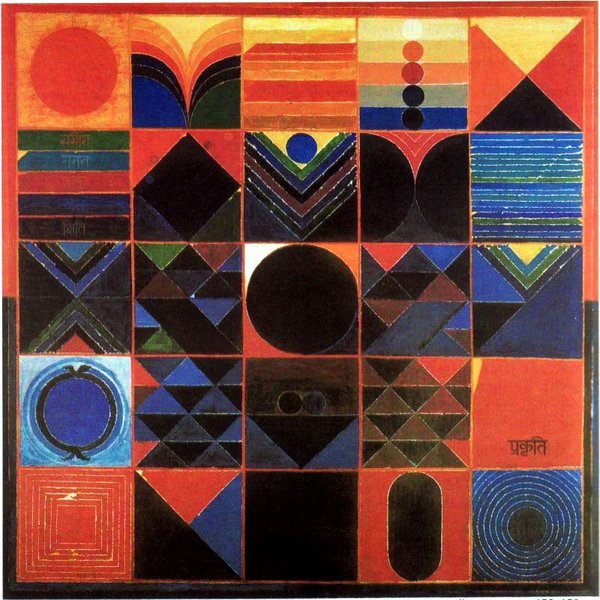 Syed Haider Raza was born in the year 1922, in the central Indian state of Madhya Pradesh. Raza received his formal training in painting at the Nagpur School of Art and Sir J. J. School of Art (Mumbai). During his stay at the Sir J.J. School, he became a member of Progressive Artist Group. At that time, SH Raza experimented with the Western modernism, which was moving away from expressionism and towards abstraction. Thereafter, he shifted to France to pursue his studies at the Ecole Nationale des Beaux-Arts of Paris. His paintings in the 1940s and 1950s revolved mainly around landscapes.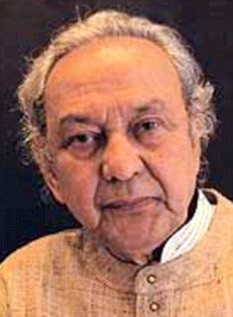 Raza had his first solo show in 1946 at the Bombay Art Society Salon, and was awarded the Silver Medal of the society. His work evolved from painting expressionistic landscapes to the abstract. From his fluent water colors of landscapes and townscapes executed in the early 40's he moved towards a more expressive language: painting landscapes of the mind.
1947 proved to be a very important year for him, as first his mother died, and this was also the year when he co-founded the revolutionary Bombay Progressive Artists' Group along with K.H. Ara and F.N. Souza, which set out to break free from the influences of European realism in Indian art and bring Indian inner vision (antar gyan) into the art, the group had its first show in 1948, the year his father died in Mandla and most of his family of four brothers and a sister migrated to Pakistan, after the partition of India.
Once in France, he continued to experiment with currents of Western modernism moving from Expressionist modes towards greater abstraction and eventually incorporating elements of Tantrism from Indian scriptures. Whereas his fellow contemporaries dealt with more figural subjects, Raza chose to focus on landscapes in the 1940s and 50s, inspired in part by a move to the France. In 1959, he married French artist, Janine Mongillat, and three years later, in 1962, he became a visiting lecturer at the University of California in Berkeley, in USA.
Raza's paintings revolve mainly around nature and its various facets. He believes the bindu (dot) to be the center of creation and existence and his works reflect this particular thinking. Even though the vibrancy of his paintings has become subtle, the dynamism remains as alive as ever. His work represents the origins of life and symbols which tribal painters and highly sophisticated Indian philosophers have drawn, pondered and mulled over for millennia. His works resonate like modern tantric tankhas, inducing wonder, joy and meditation in the viewer.
In his painting
Prakirti
, the canvas is composed of twenty-five squares, contains in each of them an image suggesting the essence of the elements present in nature [i.e., prakriti]. The painting represents Raza's ideas of colourful forms, contours, and shapes rising from black obscurity. In a visible energy spectacle, certain fundamental elements are intricately interrelated and determine the nature of form.