"Protrait of a Woman" by Nobel Laureate Rabindranath Tagore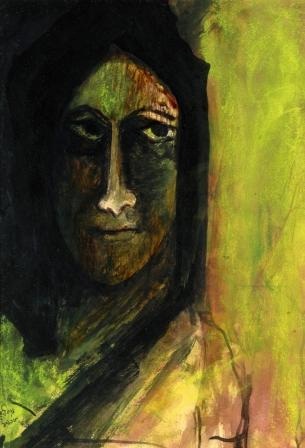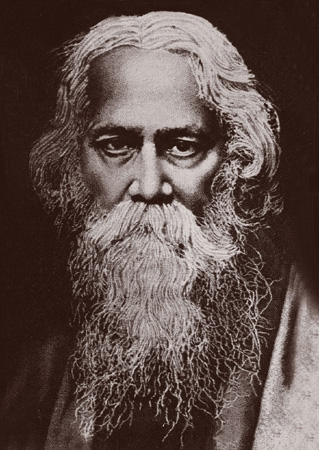 Rabindranath Tagore (1861-1941) is one of the most famous South Asian literary figure of the twentieth century. He was a poet, writer, artist, statesman, educator and musician whose work and achievements earned him worldwide respect.
Born in Bengal, Tagore was best known as a composer and poet and was the first Asian to win the Nobel Prize for literature. When already 60 years old, he began to paint and created a body of work that made him one of South Asia's great modern painters.Tagore had successful exhibitions of his many works — which made a debut appearance in Paris upon encouragement by artists he met in the south of France.— were held throughout Europe. Tagore — who likely suffered from color blindness, or partial lacking the ability to see red-green colour discernment — painted in a style characterised by peculiarities in aesthetic and colouring style.
Tagore took to emulating numerous styles, including that of craftwork by the Malanggan people of northern New Ireland, Haida carvings from the Pacific Northwest region of North America, and woodcuts by Max Pechstein. For Tagore art and aesthetics were not a peripheral; they were an integral part of the self, facilitating the recognition of beauty in all aspects of life and therefore key to the final vision of human harmony.
Tagore had a fascination with angular geometry, for smooth upward-thrusting shapes, for gaunt ovoids, for protruding beaks, teeth and noses and slimly pointing triangles. For Tagore, these shapes seem to be strangely imbued with the expressionist revelation of deep psychic pain.
In this untitled portrait of a woman, the pensive, ovoid face of the woman with large unwavering soulful eyes was perhaps a more obsessive theme than any other. Exhibited first in 1930, endless variations of the same mood-image continued to be emergent throughout. The earlier ones were delicately modelled and opalescent, while the later examples were excessively dramatic with intensely lit forehead, exaggerated nose ridge painted in strong colours, foregrounding a primal gloom.