Art of the Week: Email campaign to promote art in all of its diversity

Art of the Week June 12, 2011


"La Mariee" (The Bride) by Painter Marc Chagall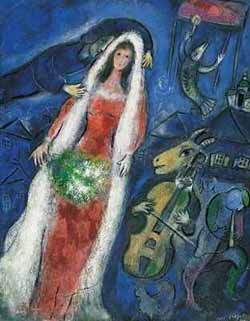 Marc Chagall was born in 1887 to a poor Jewish family in Vibetsk, Russia. He was the eldest of nine children. Chagall began to display his artistic talent while studying at a secular Russian school, and despite his father's disapproval, in 1907 he began studying art with Leon Bakst in St. Petersburg. It was at this time that his distinct style that we recognize today began to emerge. As his paintings began to center on images from his childhood, the focus that would guide his artistic motivation for the rest of his life came to fruition.

In 1910, Chagall, moved to Paris for four years. It was during this period that he painted some of his most famous paintings of the Jewish village, and developed the features that became recognizable trademarks of his art. Strong and bright colors began to portray the world in a dreamlike state. Fantasy, nostalgia, and religion began to fuse together to create otherworldly images.

In 1914, before the outbreak of World War I, Chagall held a one-man show in Berlin, exhibiting work dominated by Jewish images. During the war, he resided in Russia, and in 1917, endorsing the revolution, he was appointed Commissar for Fine Arts in Vitebsk and then director of the newly established Free Academy of Art. In 1922, Chagall left Russia, settling in France one year later. He lived there permanently except for the years 1941 - 1948 when, fleeing France during World War II, he resided in the United States. Chagall's horror over the Nazi rise to power is expressed in works depicting Jewish martyrs and refugees.

In Chagall's work during all stages of his life, it was his colors which attracted and captured the viewer's attention. As well as the symbolic or the metaphorical, there is the religious dimension to his hybrid animal-human imagery, linked to the Hassidic traditions around Vitebsk, the artist's home town. Finally, the ever-present domestic animals, cows, goats and chickens, highlight memories from a childhood spent in close contact with animals.
Marc Chagall paintings often feature young women or couples, but few cast such a striking impression as La Mariee (The Bride), clothed in her bright red wedding dress. Surely an ode to young love, this painting features a young woman in quasi-wedding attire with a bouquet of flowers being presented to the viewer in a bold and conspicuous fashion, as if we were the ones marrying her.
The genius of Mariee is in the choice of colors. The young woman is dressed in a vibrant red dress, with a virginal white veil draped over her head, while the background is a cool and subdued mélange of blues and grays. This effect allows the image of the woman to leap off the canvas and really draw your attention. It is quite apparent that Chagall was attempting to show this woman in high regard, as is the tradition at any wedding.
The wedding theme is further supported in the background. It includes a favorite element of 20th century European artists with the animals playing musical instruments, which is right up Chagall's alley. There is a man hovering over the bride's head, seemingly adjusting her veil as if to make sure that she is presented perfectly for her groom. Note the obligatory church in the distant background, placed there almost as an afterthought, but something that seems to be a requirement in any wedding painting. The painting is currently in a private collection in Japan.